UDGAM Portal RBI: The Reserve Bank of India (RBI) has launched a new portal for unclaimed deposits, named UDGAM Portal (Link available below). This portal helps people withdraw unclaimed deposits lying in their bank accounts. According to the RBI, there are around Rs 1.7 lakh crore of undisclosed deposits in India. In many of these cases, the depositors are not aware of the undeclared deposits. The UDGAM portal will help these depositors get back their deposits.
What is UDGAM Portal
In easy words, The UDGAM (Unclaimed Deposits – Gateway to Access information) portal was launched by the Reserve Bank of India (RBI) on April 6, 2023. Users can search for unclaimed deposits across 7 banks at one place, more banks will be added soon after 15 October 2023.
On the UDGAM portal launched by rbi, users can get information about unclaimed deposits by providing their name, bank name, Aadhaar or PAN card number, date of birth, etc. If there is any unclaimed deposit in the name of the user, he will get to know about it and can take further action to get it back. Learn how to find unclaimed deposits in India using the UDGAM portal.
RBI – UDGAM Portal Link
RBI has launched this portal for everyone, Every citizen of India can use this portal for free to find their unclaimed deposits, This portal has currently added 7 banks, rest all rbi approved banks will added added after 15 October 2023.
Let's find out some most important information about this portal.
| UDGAM Portal | Details |
| --- | --- |
| Portal Launch date | April 6, 2023 |
| Total unclaimed deposits as of February 2023 | Rs 35,000 crore |
| Number of banks participating in the portal as of April 2023 | 7 |
| Number of unclaimed deposits that can be searched on the portal as of April 2023 | 10 lakh |
| Target date for making the search facility available for all banks | October 15, 2023 |
| Portal Link | https://udgam.rbi.org.in/ |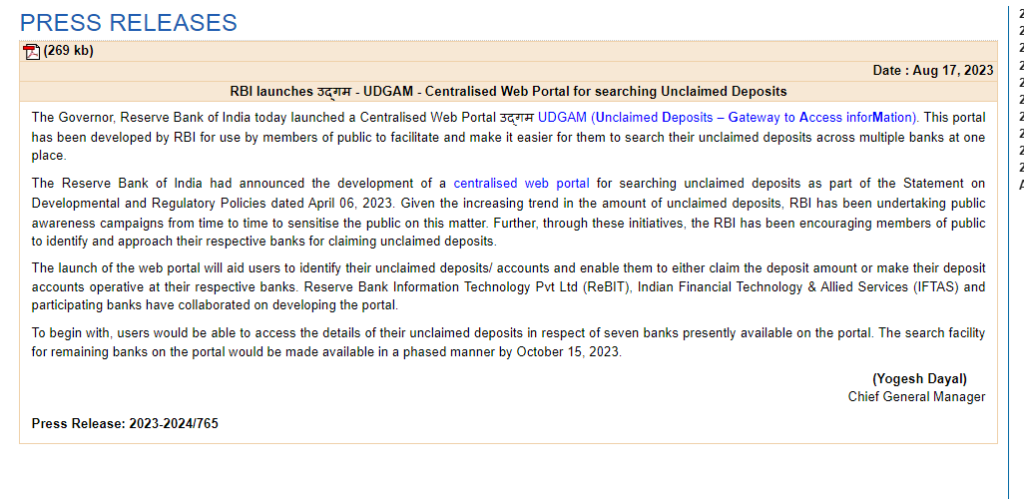 Friends, UDGAM portal is now available on the RBI website or https://udgam.rbi.org.in/. Users can also access the UDGAM portal at their nearest RBI branch.
For more information about the UDGAM portal, users can visit the RBI website or contact customer care at 022-22602977.
Latest Updats UDGAM Portal RBI
As of February 2023, there were about Rs 35,000 crore of unclaimed deposits in India. These deposits are held by rbi-approved banks, insurance companies, and other financial institutions. The deposits become unclaimed if the account holder dies or disappears, or if the account is inactive for a long period of time.
Reserve Bank of India especially launched this portal to claim unoperated deposit during last 10 years. In this portal, user can find their unclaimed deposit directly from their saving and current account by filling accurate information.
Participating banks in this portal
Here are the 7 RBI-approved banks where you can find your on unclaimed deposits.
SBI
Central Bank of India
Citibank
DBS Bank
Dhanlaxmi Bank
Punjab National Bank
South Indian Bank
UDGAM Portal Link : if you are still searching for the portal link, then you just have to type https://udgam.rbi.org.in/ this URL in your browser to open the official portal launched by RBI. This is official and Secure portal to find your unclaimed deposit.
How to Use UDGAM Portal to find unclaimed deposit
Here are the 10 step to find and claim your unclaimd deposit from UDGAM Portal.
Step 1. First of all visit UDGAM PORTAL official website
To find your unclaimed deposit you need to visit official portal website launched by RBI
Step 2. Click on "Register".
Click Register link on the portal home page.
Step 3. Enter your mobile number along with other details.
The you have to enter your mobile number along with your personal information.
Step 4. Enter Mobile Number and Verify.
After entering your mobile number verify with OTP.
Step 5. After entering the OTP code, click on "Verify".
In step 5, you must verify your OTP and click verify.
Step 6. You will be successfully login to the UDGAM Portal.
Now you are successfully logged in UDGAM Portal website.
Step 7. Click on "Search for Unclaimed Deposits" button
Now you can search your uncle deposit in the dashboard "search for unclaimed deposit" section.
Step 8. Enter name, PAN number, and other details
For searching, you must have to enter some information like your name PAN card number and other details which are linked to your bank.
Step 9. Click on the "Search" button
After filling the information click on search button.
Step 10. Find your unclaimed deposits within 7 banks
Now you will see the results of your banks if you have any unclaimed deposit list will be displayed on the dashboard, you can select the bank and contact for claim your deposit.
Friends, till now we have learned how to find the unclaimed deposit through the UDGAM portal, now let us know how this undeclared amount can be claimed in banks.
How to Claim Unclaimed Deposit in UDGAM Portal
Go to the UDGAM portal and click on the "Claim Undeclared Deposit" link.
Enter your details, such as your name, PAN number and date of birth.
Click on the "Claim" Link.
The portal will ask you to fill a claim form with some important information.
In the form, you need to provide your details and proof of your unclaimed deposits.
Submit the form and proceed.
The bank or insurance company will investigate your claim.
If your claim is accepted, you will receive the unclaimed deposit amount in your bank.
However, necessary documents can be asked to clear the deposit, out of which it is necessary to have identity proof and address proof, apart from this other documents like your PAN card and Aadhaar card are included.
Conclusion
Udgam portal allow depositors to find undisclosed deposits, here not only undisclosed deposit amount can be searched but that amount can also be claimed. Generally, if a person has not been able to withdraw or is able to withdraw any deposited amount in his account for 10 years, then in that case that account or amount is said to be unclaimed amount, looking at this situation the Reserve Bank of India has made this portal to claim that amount.